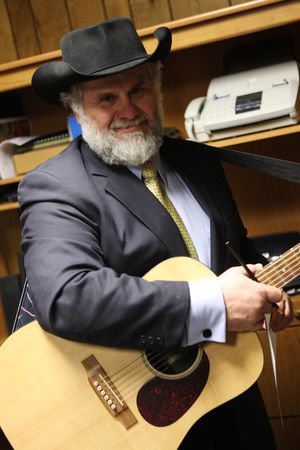 Joe Kady has been a professional singer and actor since a young age. He moved to California in 1998 after 20 years on the road developing and performing in musical events and stage shows. He's been a solo singer/ guitarist at some fine establishments and has performed at many top Bay Area theaters. Joe is a member of SAG/AFTRA and Actors Equity.  

Long before he was old enough, Joe began performing in bars (alone and with bands) in South Dakota's cowboy towns. In college he played as a soloist in clubs while developing a career on stage. He has done thousands of performances across the continent— including Vancouver, New York City, San Francisco, Minneapolis, Atlanta, Chicago, Anchorage, and Boise— and throughout Europe. 

Musical theater credits include Tevya in Fiddler on the Roof, Daddy Warbucks in Annie, Doolittle in My Fair Lady, and The Polka King in Evelyn and the Polka King. He performed in Playboy of the Western World in New York's City Center, The Buddy Holly Story at the Post Street Theatre in San Francisco, The Hank Williams Story at the Lesher Center in Walnut Creek, and multiple productions at San Francisco Shakespeare, SF Playhouse, and Marin Theater. His most viewed performance was probably as Norman Schwarzkopf for The History Channel. 
Joe sings soulfully and plays drop-tuned custom-made guitars. His song catalog includes originals as well as interpretations of Bob Dylan, Greg Brown, Tom Waits, Leonard Cohen, Richard Thompson, Leadbelly, Bonnie Raitt, Irving Berlin, John Prine, Michael Smith, Hank Williams, and Joni Mitchell. In addition, Joe showcases obscure classics and under-recognized composers with whom he's worked. All of these sources have given him a tasty collection of music that's waiting to be heard.